Welcome!! We love that you're a member of the Roy Hobbs Baseball Family!
Baseball is in our blood; and the infield dirt, the smell of the grass and the crack of the bat fuel us and drive us to consume more. More time on the field. More equipment. More news and stories. More – well, you get the idea. So, take a few minutes to discover all that's new in YOUR family. And thanks for your time and patronage of Roy Hobbs Baseball!
From sandlot baseball in El Paso, TX to the RHWS fields of Ft. Myers, FL., Pat Thompson's love of and enthusiasm for the Game has never wavered – it was just reborn.
OUR 31st WORLD SERIES WILL BE AMAZING! Scheduling is underway and we're getting ready to host 269 teams this year! MANAGERS: If you have not established your roster platforms and verified your players please do that before rosters close for your division (approx. 7 days prior to start of play). Players who have not registered for their teams should contact their managers. Teams who requested practice fields will be notified of time/place as soon as they are finalized.
The Veterans 35+ Schedule had been posted>
Masters and Legends should be up by the end of this weekend; other divisions should be posted sometime before the end of next week on our website.
RHWS FYI
PLAYER CHECK-IN is at the PDC complex Saturdays from 9am until 6pm; Sundays from 8:15 am until 5pm in the big tent in the parking lot. On Mon and Tues players may check in between 8 – 5 in the main office at WS Headquarters. (4A team players must be checked in and play in Tuesday'sgame to be eligible for playoffs starting Weds)  Non-4A players may check-in on Weds. mornings from 8 until noon to be able to participate in that day's game. No check-ins after noon on Weds. Be sure to have your photo ID and $1
PLAYER WELCOME BAGS will be available for pick up on Sat / Sun in the screened lanai attached to PDC Headquarters outside the Pro Shop. Tee shirts/patches will be available on Sun, Mon, Tues, Weds & Fri in that same area during specified hours. No tee shirts on Saturdays and each player must come in person with their card to receive both the welcome bag and the tee shirt.
Weekly Division Pairing Parties will be on Thursday evenings at specified locations at 6:00pm. Consult your copy of the Inside Pitch or our program for more details.
SUNSHINE CLASSIC NEWS – Team invitations to this popular event have been sent out. If you have NOT already indicated to us that you are interested in bringing a team to this event in 2020, please email Rob (rg@royhobbs.com) and ask him for an invitation. All teams in good standing with RHBB are welcome to participate if they are invited, have filled out the registration form AND are ready to send the non-refundable $500 deposit when you receive your invoice upon submission of the team registration. Deposit payments will ONLY be accepted electronically via the team invoice emailed to you. ALL DIVISIONS have limited availability, so get ready to register your team upon receiving your invitation. 60+ Division SOLD OUT!
RHWS Locker Room – Don't miss out on the opportunity to be treated like a Pro! Read more about this service and reserve your locker as soon as possible for your best price!
RHWS FREE AGENT PROCESS –  IT'S NOT TOO LATE! Teams are still looking for players in 45+, 53+, 60+ and 75+ divisions.  PLEASE NOTE: The playing criteria for Free Agents has been updated – see details on that and the fee structure HERE
HERE'S THE RHBB BUZZ THIS MONTH
HEROES come in all shapes, sizes and professions. Is there someone you know in our RH Family of players who is "heroic" off the field? Let us know in an email torhfamily@royhobbs.com and we might give them a shout out in our Inside Pitch editions at this year's RHWS.
HOW WELL DO YOU KNOW OUR LOCKER ROOM DIRECTOR, MIKE MURPHEY?
YES, he runs our exceptional Locker Room Service at our tournaments; yes, he manages a couple teams in our events; yes, he's a long-time journalist; and you might even know that he partnered with Dave Henderson (yep, THAT Dave Henderson) to operate a Baseball Fantasy Camp in Arizona for many years. However, around RHBB lately we've come to know him as Mike Murphey – author! And apparently he's rubbed elbows with more than one or two MLB characters. His new book, The Conman, will be released during the RHWS and will be a great beach read while you soak up sun between games! Available on Amazon starting October 21; or pick up a copy in the Roy Hobbs Pro Shop after October 27th. Who knows – you mights even get the author to sign it while you're there!
This novel, authored by Mike Murphey, is based on the true story of Keith Comstock's remarkable baseball career. Keith Comstock pitched professionally for sixteen years, including Major League time with The Seattle Mariners, the San Diego Padres, the San Francisco Giants and the Minnesota Twins. For the past decade he has served as the rehabilitation instructor for the Texas Rangers.
Enjoy RH resident baseball reporter Glenn Miller's blog:
Glenn's been cleaning out "The Hovel" and fortunately for us it provides great reading – even if the stories are from 2002!
WAITED UNTIL THE LAST MINUTE TO BOOK YOUR WS HOTEL OR CAR RENTAL?  Let RHBB and the Lee County Sports Organizing Committee help you get that taken care of! Click below for the SOC link.
HEY RHWS PLAYERS!  DON'T FORGET TO PICK UP THIS YEAR'S WELCOME BAG WHEN YOU CHECK IN! It's loaded with items, coupons and special discounts to use during your stay in Lee County. Just RHBB and our Sponsors' way of saying THANK YOU for coming!
GET YOUR RH GEAR! Cool shirts, awesome equipment and other items you wish you had.
VISIT THE ROY HOBBS WORLD SERIES PRO SHOP DURING THE TOURNAMENT for our 2019 styles in mens', women's and children's apparel. Shop for family at home or for uniform items you forgot or need. Pro Shop hours are 9:00 am until 5:00 pm when the PDC complex is in use. NEW ITEMS; PREVIOUS YEARS' ITEMS; SALE ITEMS…DON'T MISS OUT!
RHWS PLAYERS! Stop by our RH GEAR tent at PDC across from the batting cages and take a look at all we have in stock. Swing a bat, check out our Made in the USA Glove line, pick up sunglasses, batting gloves and lots more! Open daily when PDC complex is open.
JOIN US IN HONORING OUR 2019 INDUCTEES!
The Roy Hobbs Hall of Fame Induction Banquetfor 2019 will be held on Saturday, Nov. 16th at Ron Daos Sports Grille, 15320 McGregor Blvd. in Ft. Myers. A limited number of tickets are available pre-sale only using the link below and can be picked up at RHWS Headquarters or at the door the night of the event. Social hour starts at 6:15; dinner at 7:00 and the program begins at 7:45. Call us at 330-923-3400 for more information or contact Karen km@royhobbs.com
FIND YOUR PASSION
What's ours? Baseball, sure…but we're also invested in Challenger Baseball and the Fight Against Cancer!
RHWS UMPIRES! – Please join RHWS Staff and your fellow guys in blue (or gray, navy, etc.) on Wednesday, Nov 13th, 6pmat PDC for the RHUA Umpire Reception. Food and drink to be provided by Kings Kitchen & Coastal Dayz Brewery.
Some guys have a different view of the Game.  We know our RHUA Umps like to be in on the calls we're making at our events. View our updated RHUA page and keep yourselves up-to-date on our rules, opportunities and more. 
ARE YOU "TRUE BLUE"?  Check out our updated interactive feature and test your rules knowledge. New scenarios in every newsletter.
Diggin' in for the RHWS like… Give us your feedback or suggestions: rhfamily@royhobbs.com  Thanks for subscribing and Play Ball!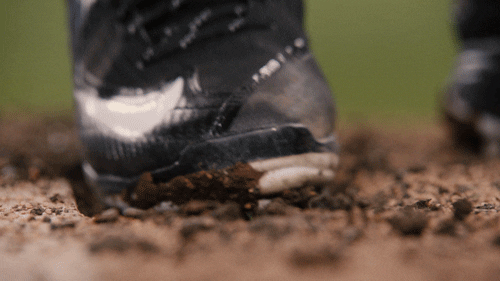 The crack of a bat; the smell of freshly mowed grass in the outfield; the pop of the ball in your glove. You found it again as an adult in Roy Hobbs Baseball. So if you know someone who's still sitting in the stands get them back on the field. Send them our newsletter and tell them Roy has a spot on his roster.